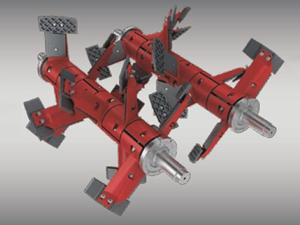 We provide wear parts for asphalt plants, including mixer blades, mixer arms, wear liners, scrapers, spacer rings and more, all made of chromium alloy and Ni-Cr alloy. Both alloys have been quenched and tempered, with a hardness reaching 68 HRC and a service life of 200,000 uses. All products are made using the lost foam casting line and automatic molding line, which reduces the need for manual labor and improves the output. Please contact us for more information.
Available brands
Lintec: LX MBM MIXER, LX MSM MIXER, LX MSM MIXER,LX MSS MIXER
Marini: 1.0, 2.0, 3.0
Parker: asphalt plant, patching plant, mobile plant, continuous drum mix plant, modular plant, static asphalt plant
Ammaann: batch asphalt mixing plant, continuous asphalt mixing plants
Speco: TSAP-500FFW asphalt mixing plant, TSAP-800FFW asphalt mixing plant, TSAP-1000FFW asphalt mixing plant, TSAP-1300FFW asphalt mixing plant,
NFLG: asphalt mixing plant,side-type asphalt mixing plant,tower-type asphalt batching plant,bypass asphalt mixing equipment,mobile intermittent asphalt mixing plant
Raw material
Standards of cast steel: DIN, JIS, EN, ASTM, GB
Chromium alloy: 5%-30% Cr. Hardness: 45-68HRC
Ni-Cr alloy: 3%-7%Ni, 1.5%-9%Cr. Hardness: 45-68HRC
Production Process
1. Send the sample or drawing to Huadong
2. Mold making
3. Mold testing
4. Mass production
5. Component testing
6. Heat treatment
7. Hardness testing
8. Polishing
9. Spray painting
10. Packaging
Advantages
1. We have 20 years of casting experience and 50 technicians to meet various customer requirements.
2. Equipped with a 3D scanner, we are able to create precise drawings of customer products.
3. Equipped with a SPECTRO spectrometer, we can test the chemical components of each product in a precise manner.
4. An advanced lost foam casting line and automatic molding line are used in the production of our wear resistant parts, which allows us to meet the requirements for mass production and short delivery periods.
Gallery
Huadong, wear parts maker, manufactures wear part of heavy equipment like concrete plant wear parts, cement wear parts, asphalt plant wear parts, and other heavy equipment wear parts. We do not just provide regular wear parts for the heavy machines specified, we offer custom wear part service according to client requirements to fabricate all wear parts. Plenty of raw material and fully equipped machine and facilities of manufacturing wear parts for heavy equipment, we have listed several brands wear parts here, and they are stocked for any order for a long time, we ever made wear parts for heavy equipment of Sicoma, Liebherr, BHS, Elkon, Lintec, Marini, Benninghoven, etc. We started to make wear parts since 1999.
Index
Cast steel parts, alloy parts, asphalt mixer parts, custom replacement parts